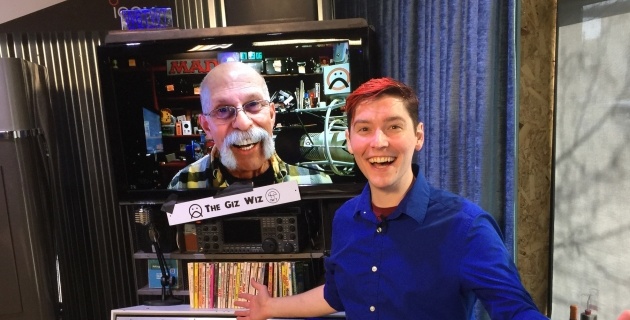 "The Giz Wiz" is a show that takes a light hearted look at tech gadgets. The show features DeBartolo and Chad "OMGChad" Johnson sharing three real gadget reviews, a random gadget, and a pick from the "Gadget Warehouse." You Never know what to expect, from Airplanes that have built in parachutes, to LED finger gloves that don't work, the things covered on The Giz Wiz will always surprise.
---
Dick DeBartolo is a podcaster and writer, most famous for writing for MAD Magazine. DeBartolo was also a writer for TV game shows, beginning with Barry-Enright before moving on to Goodson-Todman. Writing for Match Game, DeBartolo is credited with coming up with the bawdy and suggestive style of questions that the show is remembered for. Dick appears as a monthly guest of Computer America, which is heard in over 30 markets including New York and Boston, as well as a streaming broadcast on the internet. He also has a periodic "gadget" segment on ABC World News Now. DeBartolo made over 100 appearances on Live with Regis and Kathie Lee, offering purchasing advice about various devices and products.
---
Chad Johnson is a Let's Play commentator and YouTuber. He is a member of Mindcrack, a gaming focused content creation group. He previously worked for Brian Brushwood, traveling across the country, internationally, and performing for celebrities. He was also credited as a Creative Consultant on various episodes of Discovery Digital Networks' web series "Scam School". In 2011, Chad moved to the San Francisco Bay Area to work for ​TWiT, a well known podcasting company. He now lives in Dallas Texas! Chad became a full-time content creator producing his own show OMGcraft, and personal videos and streams on YouTube and Twitch, reaching an audience of over 6 million viewers/month.

---
Josh Cheney produces the show. He is based in Atlanta, Georgia and is not new to online production. He also produces OMGcraft, Night Attack, ​JuRY, and Politics! Politics! Politics!